| | |
| --- | --- |
| Posted on September 22, 2013 at 12:10 AM | |
In the Spotlight.....
Gary Beck, Author of Acts of Defiance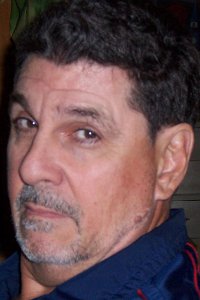 About The Book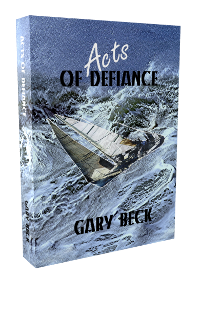 Acts of Defiance explores the lifelong friendship of two boys. When Randy's father takes a poor city boy, Steve, for the summer, the boys become fast friends destined for great adventures. From persuading a Marine Corps recruiter to enlist them at the age of fourteen to surviving a wild storm under sail, the boys move on to college with a commitment to change the world. For Steve, this means playing by the rules and working within the system. For Randy, this means studying Chinese to read the worlds of Chairman Mao and joining a group committed to overthrowing the international yoke of capitalism in underprivileged countries, preferably by violence. As men, Steve and Randy's choices lead in opposite directions, but when Randy becomes a wanted criminal, Steve is there to help him. As much as Acts of Defiance is about different approaches to combating prejudice and injustice, it is, at its heart, a story of the enduring bonds of friendship.
About the Author
Gary Beck has spent most of his adult life as a theater director. His book The Conquest of Somalia was published by Cervena Barva Press, The Dance of Hate was published by Calliope Nerve Media, Material Questions was published by Silkworms Ink, Dispossessed was published by Medulla Press and Mutilated Girls was published by Heavy Hands Ink. A collection of his poetry Days of Destruction was published by Skive Press. Another collection Expectations was published by Rogue Scholars press and Dawn in Cities was published by Winter Goose Publishing. Assault on Nature™ will be published by Winter Goose Publishing. His novel Extreme Change was published by Cogwheel Press and Acts of Defiance is being published by Artema Press. His original plays and translations of Moliere, Aristophanes and Sophocles have been produced Off Broadway and has toured many colleges and outdoor performance venues.
Official Book Video Trailer for Acts of Defiance
Praise for Acts of Defiance:
Acts of Defiance is "a beautiful and moving story"—Whortleberry Press
From the Publisher:
Artema Press is both proud and privileged to represent this author, who is well known for his preceding novels, beautifully polished prose, masterful storytelling, and an exquisite sense of timing. Interested reviewers are welcome to request advance review copies (in any eBook format) and should contact Artema Press directly at artemaepress at gmail dot com.
More Information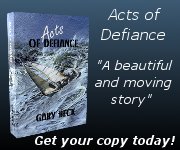 Acts of Defiance is available at Amazon.com. To learn more about Gary Beck and Acts of Defiance, visit www.garycbeck.com.