| | |
| --- | --- |
| Posted on October 9, 2013 at 12:05 AM | |
In The Spotlight.......
Margo Bond Collins, Author of Waking Up Dead
About The Author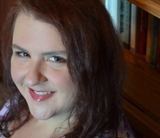 Margo Bond Collins lives in Texas with her husband, their daughter and several spoiled cats. She teaches college-level English courses online, though writing fiction is her first love. She enjoys reading urban fantasy and paranormal fiction of any genre and spends most of her free time daydreaming about vampires, ghosts, zombies, werewolves, and other monsters. The paranormal mystery Waking Up Dead is her first novel; her second, Legally Undead, is an urban fantasy due out from World Weaver Press in 2014.
About The Book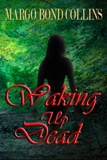 When Dallas resident Callie Taylor died young, she expected to go to Heaven, or maybe Hell. Instead, she met her fate early thanks to a creep with a knife and a mommy complex. Now she's witnessed another murder, and she's not about to let this one go. She's determined to help solve it before an innocent man goes to prison. And to answer the biggest question of all: why the hell did she wake up in Alabama?
Official Book Video Trailer for Waking Up Dead
Praise for Waking Up Dead:
Waking Up Dead is "A definite winner! One of the best paranormal mysteries I've read! " – A readers review.
More Information: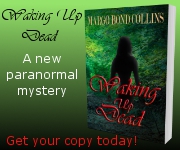 Read Margo's interview on Reading and Writing Addiction blog
Read Waking Up Dead Press Release
Download Waking Up Dead Pitch Sheet [PDF]
Waking Up Dead is available at Amazon.com. To learn more about Margo Bond Collins and Waking Up Dead, visit www.MargoBondCollins.com.