In the Spotlight.....
Cynthia L. Knight, Author of Whyte Chocolate
About the Author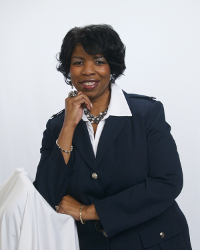 Author Cynthia L. Knight is a self-proclaimed "lover of words". Born in New Jersey and raised in the suburbs of Baltimore, Maryland Cynthia spent her early years engrossed in reading, movies, and music. She has always been an avid writer. During her youth, she was rarely found without her writing journal. Cynthia attended the University of Maryland College Park where she majored in English and graduated with a Bachelor of Arts degree in the Humanities.
After college she married her childhood sweetheart and started a family, but she could not escape the allure of writing and penned her first novel, Whyte Chocolate, in 1997.
In 2005, Cynthia launched a book publishing company originally to self-publish her own titles, but quickly decided she wanted to help others who had dreams of publication. Cynthia is the owner and CEO of Mosaic Paradigm Group, LLC.
About The Book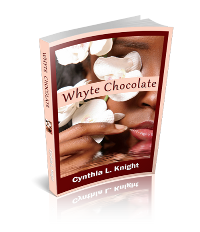 The Murdock Sisters are close, unique, and beautiful. These are the only traits they share in common. Their lives are turned upside down after the sudden death of their parents. The tragedy leaves them fragile and wounded, each trying to make sense of their lives. Their only unified decision was to make a fresh start in a new city. Camille is a mild-mannered owner of a coffee house café. Bianca, wounded in love, is a pseudo-militant civil rights activist who free-lances as a journalist. The Murdock Sisters are forced to face their differences in life and love when Camille meets and falls for the handsome, up and coming executive, Preston Warner Hughes. Surprises and drama surface when Bianca, while following a lead, uncovers a plot which could destroy Preston, his career, and ultimately her sister Camille. This discovery may also put Bianca on a path towards love. The lines of sisterhood are drawn and tested between healing, romance and hate. Which one will prevail?
Official Book Video Trailer for Whyte Chocolate
Praise for Whyte Chocolate:
"Whyte Chocolate offers intriguing insights on the issue of race and shows the strength and tenacity of love despite obstacles. I enjoyed the book." - Andrea Roberts, Author of No, I'm Not Less Than a Woman and A Poetic Heart Speaks on Love and Life

More Information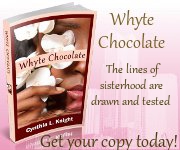 The official book launch party for Whyte Chocolate is on October 19th more information is available here.  Whyte Chocolate by Cynthia L. Knight is published by Mosaic Paradigm Group,LLC. You can purchase a copy at Amazon.com., Barnes and Noble, Books a Million and all major online retailers. To learn more about Cynthia L. Knight and Whyte Chocolate visit www.cynthialknight.com.