| | |
| --- | --- |
| Posted on November 8, 2013 at 12:00 AM | |
In the Spotlight .....
Lacey Reah, Author of Enlightened Ones
About the Author
Lacey Reah has worked as a teacher, fitness and yoga guru, a healer, an actress and a writer. She has traveled the globe, living in major cities such as Manila, Sydney, Los Angeles and New York; working odd- ended jobs such as retail sales and being a paid physic. Wherever she went, she has taken the opportunity to track every key point of her life and document it. So much has happened in her life and with heavy bouts of sleep apnea that it is difficult to discern the reality from the fantasy. She is on a lifetime search for truth. She writes erotica, horror, and literary fiction.
About the Book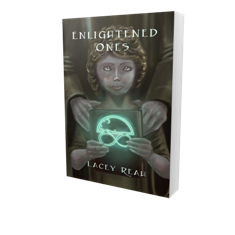 Taken aback by the generous and caring Enlightened Ones, Maggi is convinced to leave her dysfunctional home for what will now be her true family. The past lives of all involved unravel as they give up all their worldly possessions to build paradise on a remote island with their enigmatic leader, John Cronus. Have the Enlightened Ones taken the road less traveled, or have they sealed their fate with a madman? Enlightened Ones are required to feel a great sense of community, but what happens when the rules change? How will they handle it when their sense of trust is questioned? In a society where betrayal is not an option, what will they stoop to in order to escape, and who will take the blame when their plans mistakenly lead to one of the greatest tragedies of their time?
Official Book Video Trailer for Enlightened Ones
Praise for Enlightened Ones :
"The book keeps you on edge as it takes you from one dramatic wallop to another. You feel these characters. You hear their struggling voices. And you care what happens to them. "— A reader's review.

Additional Information