In the Spotlight...
Everette Ray and Michelle Lea Bowers, Authors of "To Own a Slave or Not to Own a Slave"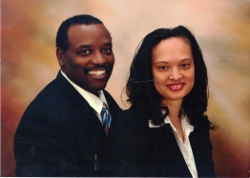 About The Book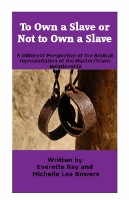 It's a bird, it's a plane, it's a person of faith! People of faith, our neighborhoods need you! After reading, "To Own a Slave or Not to Own a Slave," you will:
• Understand why we need a superhero and how you, the person of faith, can be that superhero
• Learn an interpretation and application of the holy scriptures that will amaze you
• Gain true purpose that will change your life and the lives of others
• Learn how to be an outstanding advocate for change
• Gain incredible awareness and practical solutions
• Learn the importance of unity and why it is so desperately needed
This book will be beneficial to the person of faith, and it will add personal value to all those who take heed to the valuable information outlined in this powerful explanation. In addition, "To Own a Slave or Not to Own a Slave," will provide you and your faith-based organization with the necessary motivation and encouragement to be effective in your own communities. If you focus on the goal, and use the strategies provided in this book, you can become one of the most powerful entities on earth.
About The Authors
Everette and Michelle are a powerful team with a mission of changing the world, one neighborhood at a time. Everette is an author, motivational speaker, teacher, and businessman. He holds a Bachelor of Business Administration degree and a Bachelor of Science in Biblical Studies. Michelle is an educator, author, and businesswoman. She holds a Bachelor of Science degree, and a Masters of Liberal Arts in Education. Together they have a vision of seeing our neighborhoods change for the better.

Official Book Video Trailer for "To Own a Slave or Not to Own a Slave":
Praise for "To Own a Slave or Not to Own a Slave":
Whether you're a spiritual person or not, this book will have you asking a lot of questions about what you have been taught about slavery and its impact on neighborhoods today. If you are looking to understand slavery from a different perspective and strategies to help improve your neighborhood, I highly recommend you read this book.- Sarah Holloway, Indie Author News and Reviews.
Additional information: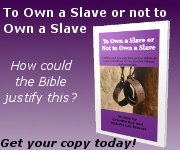 "To Own a Slave or Not to Own a Slave" (21 pages, ISBN# 978-0-9752781-3-0) is available at EMpublishinghouse.com. To learn more about Everette and Michelle Bowers and "To Own a Slave or Not to Own a Slave", visit
EMpublishinghouse.com
.