In the Spotlight....
E.L. Crenshaw, Author of "They Always Come in Three"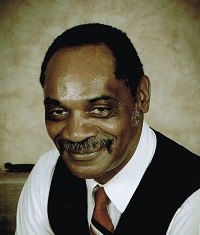 About The Book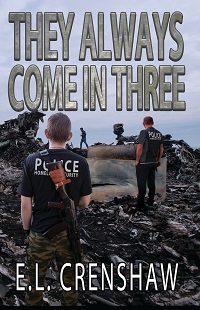 Department of Homeland Security Agent Michael Speed, with peculiar personality quirks and his partner Dave Cyrano are assigned to investigate a succession of unexplained airplane crashes.
Their pursuit takes them in several different directions from Whidbey Naval Air Station to an arrogant Aryan nation's militant group to an obscure aviation company in Sweetwater, Texas; and, finally, to the top tier of the nation's aviation investigation organizations in Washington, D.C.
 They find two common threads in their search, Avanti Aerospace and the European Alliance Consortium. However, each time they are close to uncovering the conspiracy, they are abruptly assigned to another project.
As the body count, from the airline disasters continues to pile up, Speed and Cyrano enlist the aid of Jason Brady, a teenage survivor of one of the air crashes with inside knowledge of the flight deck. Together they embark on a course that puts their lives in danger. When the smoke clears only one of investigators will be left standing.
About The Author
E.L. Crenshaw has had an extensive and successful career in the aviation field. After a move to more scenic surroundings, he finally found the time to sit down and pen his first of three planned novels. Crenshaw enjoys reading other thrillers, playing classical guitar, and a good game of chess. He currently resides in Federal Way, WA, with his wife of twenty-seven years, Linda.
Official Book Trailer for "They Always Come in Three"
Praise for "They Always Come in Three":
"a fast paced story that had me hooked from the first chapter and didn't let go until I was done with the book." Justin Forthwayne, Amazon reviews
Additional Information: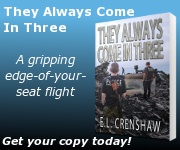 "They Always Come in Three" (212 pages, ISBN: 978-1-61296-408-9) is available online at Amazon and Barnes and Noble. To learn more about E.L. Crenshaw and "They Always Come in Three" visit www.fictionwritersplus.com or www.blackrosewriting.com.